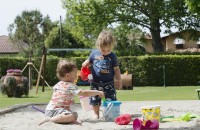 Family Luxury Hotel in Versilia
The perfect match for holidays with children in Versilia and a resort relaxing vacation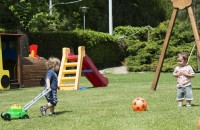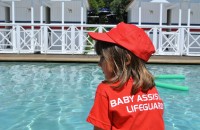 FAMILY ROOMS AND LARGE PLAYGROUND IN FORTE DEI MARMI
The Hermitage Hotel & Resort is the ideal solution for family and children who want to enjoy the charm of a luxury hotel in Versilia along with the fun of a family holiday in Forte dei Marmi.
The large playground for children inside the park of our Hotel in Forte dei Marmi is a safe area where our young guests can have fun.
The Hermitage Hotel & Resort is equipped with facilities specifically designed for children, to make the stay of children comfortable and funny: the hotel offers slides, playhouse cabins, a shaded sandbox and a volleyball court.
A family hotel and a resort which is the perfect location for a relaxing holiday with kids in Forte dei Marmi.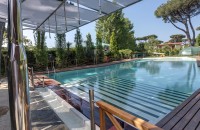 Fun for children and relax for parents
Under the supervision of our staff, your children can spend the full day having fun and playing with other children. At the Hermiage Hotel & Resort swimmingpool children can have fun and have swimming lessons while parents are relaxing.
A luxury children entertainment
Your children's holiday has never been so funny!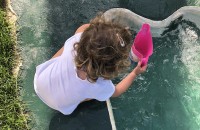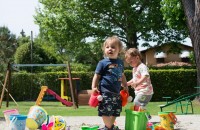 At the Augustus Beach Club and at the Hermitage Hotel & Resort is organizaed an entertainment interesting program that allow young guests to play together using water and sand, to have painting, sculpture, gardening and cooking sessions.
The only thought for parents will be to relax and have fun. .
A great chef for our young guests
For the little ones, our chef prepares dishes suitable for all tastes and ages, with special and customized menu.

Before dinner, the chef welcomes children in our vegetable garden to let them discover the cultivation of vegetables and the can enjoy at taste.

These services make the Hermitage Hotel & Resort one of the best Family Luxury Hotel in Forte dei Marmi.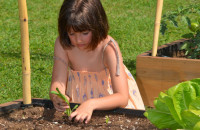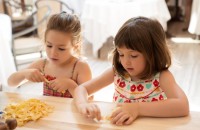 Care for details
The love and care for the little ones also involves attention and sensibility to eco-sustainability: our garden provides the kitchen with products Km0, the hotel has been renovated with energy-saving criteria and is equipped with solar panels. The Hermitage Hotel & Resort parking area has a charging station for electric vehicles. The same attention is also used in the choise of cleaning products.