Weddings
& beach parties
Refined cuisine and a magical setting for unforgettable events and wedding parties on our beach.
On the Tuscan coast, set between the sea and the Apuan Alps, surrounded by gardens and pine woods, Forte dei Marmi has always been synonymous with elegant, relaxed and exclusive holidays. The ideal destination for a stylish wedding, you can combine the desire to celebrate the most important moment of you life on the beach by the sea, together with dream of living the most important day of your life in an elegant historical villa.
Our seaside facilities has been recently completely renovated with the addition of a heated salt water swimming pool, its restaurant, Bambaissa, with the sea view veranda, offers one of the most refined seafood cuisines of Versilia, particularly indicated for weddings and exclusive candlelit parties on the beach.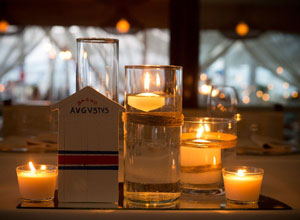 The structure is highly versatile, with a wide open room and veranda overlooking the beach permitting you to make yours a truly seaside party, with magical candlelight displays in the sand, carpets and the white sails of the open terrace creating an elegant and refined atmosphere.